RENOVATION IN RETROSPECT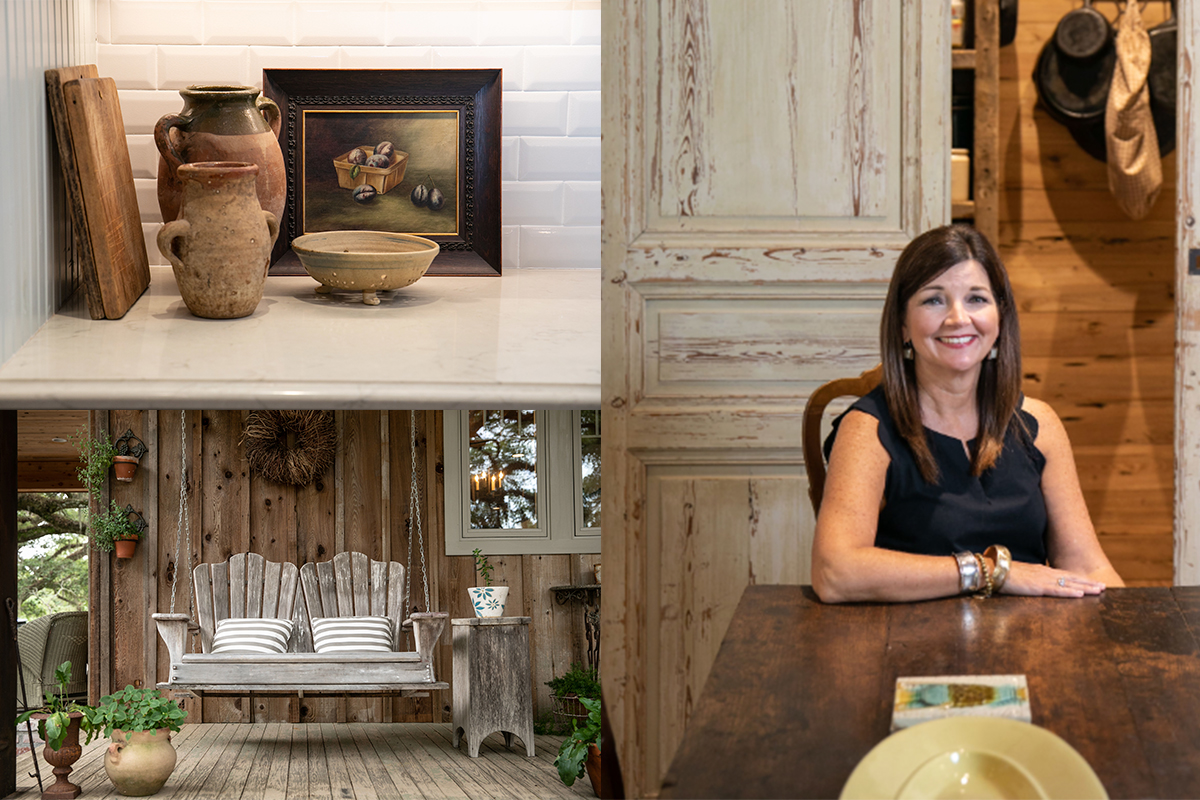 Signature Southern Accents owner Melane Landry spent half a lifetime curating her dream home in her … well … dreams. Now that she's finally living in the luxuriously renovated 1926 Creole dog-trot cottage, Melane shares tips for embracing an old home's quirks, while incorporating design flourishes and treasured antiques to truly make it your own.
psst.. last summer, we took you through Melane's home as she was wrapping up construction, click HERE to read.
Renovating an almost hundred-year-old house is no in-and-out mission. Melane Landry never thought it would be, but then again, she's done it before. Owning the 1926 Creole dogtrot house that she now calls home has been the Signature Southern Accents owner's dream since she was a girl. In November, 2017, after years of scheming, antique-collecting, and preparation, Melane finally bought the house, and set about making her dream come true.
As a professional designer, Melane has decades of experience helping others zero in on their home decorating dreams. So she knew exactly what she wanted out of her own "forever" home. Here she shares three of the most important rules to keep in mind when it comes to breathing new life into an old house.
1. Plan to show off your home's most striking features … then make it happen.
Asked to name a favorite feature, Melane points to the beautiful, expansive windows that frame views of the property's majestic live oak trees. The larger, energy efficient windows are not original, but Melane prioritized upgrading them to, as she puts it, "bring the outside in." She chose windows that kept the same light configuration as the originals – what those in the business call "4 over 1" (four little panes on top; one large pane below). It's a valuable lesson to keep in mind. Choosing to showcase your home's most striking features – in Melane's case the century-old oaks her home is surrounded by – is almost always the right choice, even if that means slightly altering an original look. She even took the unconventional step of doing away with any window treatments, so the view would not be obstructed.
"I decided not to put anything on the large windows—no indeed, the view is gorgeous!" she exclaims. "I'm not going to cover it up with anything!"
2. Old houses have charming ­– and frustrating – quirks. Learn to live with them.
Ninety plus years takes a toll on even the best-built structure. When Melane purchased the house one of the first things she tackled was leveling the foundation. From the highest point to the lowest point there was a four-inch difference, and there's only so much that can be done about that.
"You have to compromise on a lot of things," says Melane. "They got it to 1.5 inches. If you look close, you'll see that it's not perfect."
The lesson: Finding the right contractor is the key to getting things in an older home, if not perfect, then at least as close as possible. "Right now you're dealing with an industry that's so geared toward new construction," Melane says. "This is so out of the norm for these subcontractors that many of them didn't want to deal with it." So go in search of a contractor with experience renovating or restoring older homes—and a passion for preservation. Melane was fortunate to have her brother-in-law, Jeff Couvillion owner of Acadiana Constructors, Inc., advise her through the renovation process.
Preserving the original, 1926 wood floors would have been Melane's first choice. Alas, termites had gotten the best of them over the years. Her solution: choosing a "dirty-top" pine (a material in which the original, rough-sawn marks are preserved) from a locally owned business, Higgins Company of Maurepas, that fit both with the home's original aesthetic, and Melane's vision for its future.
3. If you find something you love, even if you don't have the perfect space, acquire it. Then hang onto it!
After years of searching, collecting, and persuading, Melane has a home she's been furnishing—if only in her mind—for her entire adult life.
That's how she ended up with the beautiful wide sink that holds pride of place in her guest bathroom. "That sink was not for sale," Melane says. "I found it at the Gilded Sparrow in Denham Springs. The owner was using it for display. I kept asking her to sell it to me. She FINALLY gave in."
The corbels holding up the mantelpiece: Melane has had them for twenty years. "Those came from an antique market in Atlanta," she says, "and I've held onto them until I found the perfect space."
Indeed, Melane's entire project demonstrates that there's always room to make sentimental value part of the design process. Just one example is the living room mantel itself—a handsome, antique piece of cypress that was once part of her late nephew's outdoor kitchen. When Jeff brought the piece to her house, Melane was excited to see that the old paint on it happened to be aqua—her favorite color.
And then there's the pie safe. When Melane was 17 she spotted—and fell in love with—an antique pie safe in Cole's Florist, a now gone Highland Road florist's window. It was $350, but she persuaded the shop owner to let her pay for it in installments. Now, it holds pride of place, backing up to a well-stocked kitchen pantry.
Interested in meeting with a Signature Southern Accents expert to set a design consultation for your old - or new - home? Request an appointment by emailing store@signaturesouthernaccents.com or call 225-654-7110.